Tolnatext – plaster reinforcement grids are primarily used to prevent cracks in the plaster. Special qualities such as our composite articles serve as separation to the subsurface and as plaster reinforcement at the same time.

Tolnatext – plaster reinforcement and crack bridging scrims are produced from high-quality glass yarns in own European production facilities. Due to internal quality management and a continuous external supervised production control, we can guarantee a constant, high quality standard. Moreover, our production facilities are directed to flexibility. This is the reason why we are also able to provide customized solutions to prices, which are in line with the market.

Our motto is: Offering quality products with maximum flexibility regarding packaging and measurements to competitive prices and at the same time always responding to the customers' requests.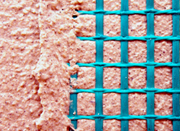 see the products



Fabric for Plaster reinforcement